Number of visitors:


Events:

Our media partner:

Optimized for browser:

Weather at the park railway Olympia: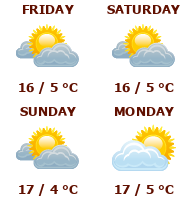 More weather
| | | |
| --- | --- | --- |
| | Reportage drew up: © Tomas Randysek | |
14th steam indoor meetihg held in Karlsruhe, which is situated about 70 km farther of Sinsheim - place of previous meetings. Main reason was limit to exhibition space on Sinsheim´s fairground. Two new modern halls welcomed exhibitors and visitors.

Czech Republic had a record turn-out on this year. 6 steam engines and 2 battery engines intorduced on the "big" yard (gauge 184mm/127mm) and 7 steam engines introduced on the "small" yard (gauge 45mm).
| | | |
| --- | --- | --- |
| | 5" and 7" yards were placed parallel in the hall No. 2 (5" inside and 7" outside). Even bouth halls are comparatively extensive, but you cannot confront this exhibiton space with Sisnheim. Sinsheim´s exhibition space was simply larger. Especially 7" yard was very simple, only oval without loops. Lenght was shorter than in Sinsheim also and capacity of trains declined. Railway station had only two rediable tracks, of witch one track was for water fuelling. All these conditions implicated a long queues before the station. Organizer asked us actually on Saturday, if you can start to run at noon, when most of competitors will have a lunch, because yard was thick with engines. On the other hand, you can drive steam engine in the unkide winter weather on this meeting, you can meet other modellers and buy dead weight. | |
| | | | |
| --- | --- | --- | --- |
| | | | |
| | | |
| --- | --- | --- |
| | We started our trip on Thursday morning. We wanted to unload steam engines from lorry in the evening, yet. Temperature below freezing point is very dangerous for steam engines, because small remains of water staying in the pipes. And water can disrupt these pipes. | |
Roman´s lorry is full ...
(photo © Tomas Randysek)

... namely Jirka carries his engine
by his car.
(photo © Tomas Randysek)

Our models in hall after uloading.
(photo © Roman Siler)
Reserved places in depot Karlsruhe.
(photo © Tomas Randysek)

Early-evening discussion with
Man fred Ludwig. He is mobile
yard owner.
(photo © Tomas Randysek)

Our steam engines squadron.
(photo © Tomas Randysek)

<! AEG #################################################################>
| | | |
| --- | --- | --- |
| | We started our runs by batery locomotive AEG on Friday morning: | |
| | | | |
| --- | --- | --- | --- |
| (photo © Tomas Randysek) | (photo © Tomas Randysek) | (photo © Tomas Randysek) | |
| | | | |
| --- | --- | --- | --- |
| (photo © Tomas Randysek) | (photo © Tomas Randysek) | (photo © Roman Siler) | |
We started firing our steam
engines in the meantime.
Our girls prepared for sight-seeing.
(photo © Tomas Randysek)

<! SOLINGEN #################################################################>
| | | |
| --- | --- | --- |
| | The three-axle locomotive "SOLINGEN" had her premiere. This is a younger sister of Ponava and Krzenowic. Jiri Sajbrt built this engine few months from SOB (Südostbahn) cart kit. And you can be satisfied with his work. Solingen manfully cuts meter by meter from yard. A small problem with cracked stuffing of water-gauge Jirka solved on the spot. | |
Start of firing.
(photo © Tomas Randysek)

Petite adjustment
of undercarriage.
(photo © Tomas Randysek)

The pressure is increasing.
(photo © Tomas Randysek)
And sparks flipped
by stack ...
(photo © T. Randysek)

... and whistle whistled ...
(photo © Tomas Randysek)

... and Solingen wraped
into steam.
(photo © T. Randysek)
Safety valves.
(photo © Tomas Randysek)

Solingen is going from shunting
line to transfer carriage.
(photo © Tomas Randysek)

On transfer carriage.
(photo © Tomas Randysek)
Last preparing before the first run.
(photo © Tomas Randysek)

Open water drain valves.
(photo © Tomas Randysek)

First travelling meters.
(photo © Tomas Randysek)
At railway station.
(photo © Tomas Randysek)

At track section.
(photo © Tomas Randysek)

First passenger.
(photo © Roman Siler)
Waiting before railway station.
(photo © Tomas Randysek)

Control of oil in oiler.
(photo © Tomas Randysek)

Controls.
(photo © Tomas Randysek)
Solingen is resting in depot after
first operating day.
(photo © Tomas Randysek)

<! GROMIT #################################################################>
| | | |
| --- | --- | --- |
| | Steam engine GROMIT from depot Vinohrady was at the indoor meeting for the first time. Pavel made several technical adjustments and Gromit went without problems. Even if they went with low water-level it suited to steam engine. Pavel repainted boiler jacket and renovated linking, too. Gromit looks like new. | |
On shunting line in depot with new
repainted boiler jacket.
(photo © Tomas Randysek)

Steam engine preparing.
(photo © Tomas Randysek)

Firing.
(photo © Roman Siler)
Oil fuelling and lubrication.
(photo © Tomas Randysek)

All Uhlirs aboard a train.
(photo © Tomas Randysek)

Honzik is already experienced
engine driver.
(photo © Tomas Randysek)
Waiting for departure.
(photo © Tomas Randysek)

Maintain to balance of pressure
and water-level during waiting.
(photo © Tomas Randysek)

Iva Uhlir can take control to steam
engine, too.
(photo © Tomas Randysek)
Gromit is backing-up into depot.
(photo © Tomas Randysek)

Daily operating is visible on surface
cleanliness.
(photo © Tomas Randysek)

<! PONAVA #################################################################>
| | | |
| --- | --- | --- |
| | Steam engine PONAVA was only as non-productive exhibit on SOB display stand last steam meeting. But Ponava ran about cheerfully this year and Martin Siler had a good time all three days (without waiting in a long queues, of course). | |
Ponava with a new number and
Moravian eagle.
(photo © Tomas Randysek)

In depot.
(photo © Roman Siler)

Firing of steam engine.
(photo © Tomas Randysek)
Ponava is ready for run.
(photo © Tomas Randysek)

Passenger cars coupling before
departure from depot.
(photo © Tomas Randysek)

Departure from depot.
(photo © Tomas Randysek)
Ponava leaves railway station.
(photo © Tomas Randysek)

Ponava leaves railway station.
(photo © Tomas Randysek)

Waiting in queue before station.
(photo © Tomas Randysek)
Ponava is arriving into station.
(photo © Roman Siler)

At the station.
(photo © Tomas Randysek)

At track section.
(photo © Roman Siler)
Beautifully smoke from stack.
(photo © Roman Siler)

<! ANDPIE #################################################################>
Steam engine ANDPIE is a fix star on hall meetings.
It used coupled runs with Solingen this year:
In depot.
(photo © Tomas Randysek)

At track section.
(photo © Martin Siler)

At track section.
(photo © Martin Siler)
Coupled steam engines Andpie
and Solingen.
(photo © Tomas Randysek)

<! KRZENOWIC #################################################################>
Last steam representative of S.M.P.D. Society was engine KRZENOWIC,
which was first premiere on last year's meeting in Sinsheim:
Firing in depot.
(photo © Roman Siler)

Hearth.
(photo © Tomas Randysek)

At track station.
(photo © Tomas Randysek)
Waiting in queue before station.
(photo © Tomas Randysek)

Oil fuelling into oiler.
(photo © Tomas Randysek)

Departure from station.
(photo © Tomas Randysek)
Waiting for carriageway of
passenger train MaLu-Bahn.
(photo © Tomas Randysek)

Behind the station.
(photo © Roman Siler)

After runs - on shunting track in
depot.
(photo © Tomas Randysek)


<! SDŽ #################################################################>
Our friends from SDC (Sic´s diminutive railway) arrived into Karlsruhe with
7" model of steam engine 310.017:
Firing in depot.
(photo © Roman Siler)

Water fuelling.
(photo © Tomas Randysek)

Departure from depot.
(photo © Tomas Randysek)
At track section.
(photo © Tomas Randysek)

Coal fuelling in station.
(photo © Tomas Randysek)

Departure from station.
(photo © Roman Siler)
Departure from station.
(photo © Roman Siler)

<! T478.3085 #################################################################>
The second battery model was engine T478.3085 of modeller Bohumil Pavlicek.
It was his first run in hall meeting with this model:
| | | | |
| --- | --- | --- | --- |
| (photo © Tomas Randysek) | (photo © Roman Siler) | (photo © Tomas Randysek) | |
| | | | |
| --- | --- | --- | --- |
| (photo © Roman Siler) | (photo © Tomas Randysek) | (photo © Roman Siler) | |

<! Vozový park #################################################################>
| | | |
| --- | --- | --- |
| | Part of a rolling-stock from the Czech Republic: | |
| | | | |
| --- | --- | --- | --- |
| (photo © Roman Siler) | (photo © Roman Siler) | (photo © Roman Siler) | |
| | | | |
| --- | --- | --- | --- |
| (photo © Roman Siler) | (photo © Roman Siler) | (photo © Roman Siler) | |
| | | | |
| --- | --- | --- | --- |
| (photo © Tomas Randysek) | (photo © Roman Siler) | (photo © Roman Siler) | |
| | |
| --- | --- |
| (photo © Roman Siler) | |

<! Ostatní modely #################################################################>
| | | |
| --- | --- | --- |
| | You can saw dozens more models - steam or battery engines, different sorts of passenger and freight cars. Some modellers set very long good trains (about 30 wagons) at 5" yard. Structure of models was the same as previous meetings. | |
But new model of steam engine Mh.7 introduced us.
This model ran with MaLu-Bahn passenger trains:
| | | | |
| --- | --- | --- | --- |
| (photo © Roman Siler) | (photo © Tomas Randysek) | (photo © Tomas Randysek) | |
| | | | |
| --- | --- | --- | --- |
| (photo © Roman Siler) | (photo © Roman Siler) | (photo © Tomas Randysek) | |
| | | |
| --- | --- | --- |
| | And another big steam engines MaLu-Bahnu supported commercial running: | |
| | | | |
| --- | --- | --- | --- |
| (photo © Tomas Randysek) | (photo © Roman Siler) | (photo © Roman Siler) | |
| | | | |
| --- | --- | --- | --- |
| (photo © Tomas Randysek) | (photo © Tomas Randysek) | (photo © Tomas Randysek) | |
| | | |
| --- | --- | --- |
| (photo © Roman Siler) | (photo © Roman Siler) | |
| | | |
| --- | --- | --- |
| | And another modellers run for joy, just like you: | |
| | | | |
| --- | --- | --- | --- |
| (photo © Tomas Randysek) | (photo © Tomas Randysek) | (photo © Tomas Randysek) | |
| | | | |
| --- | --- | --- | --- |
| (photo © Roman Siler) | (photo © Roman Siler) | (photo © Roman Siler) | |
| | | | |
| --- | --- | --- | --- |
| (photo © Tomas Randysek) | (photo © Tomas Randysek) | (photo © Tomas Randysek) | |
| | | | |
| --- | --- | --- | --- |
| (photo © Tomas Randysek) | (photo © Tomas Randysek) | (photo © Tomas Randysek) | |
| | | | |
| --- | --- | --- | --- |
| (photo © Roman Siler) | (photo © Roman Siler) | (photo © Roman Siler) | |
| | | | |
| --- | --- | --- | --- |
| (photo © Roman Siler) | (photo © Roman Siler) | (photo © Roman Siler) | |
| | | | |
| --- | --- | --- | --- |
| (photo © Tomas Randysek) | (photo © Tomas Randysek) | (photo © Tomas Randysek) | |

<! Hala č. 1 #################################################################>
| | | |
| --- | --- | --- |
| | There were display stands, a few of yards for small steam models and swimming pool for ship models in hall No. 1. We know most of exhibitors from previous meetings. | |
| | | |
| --- | --- | --- |
| | The second group of S.M.P.D. Society supported operating of small steam engines with gauge 45mm. Uhlir´s family dodged from hall No. 1 to hall No. 2 because operate small and big steam engine together is very hard. Jirka Kut introduced new steam model "Heidi" from RhB, Karel Duda ran with a new tank engine, which he built. | |
Technical foul territory.
(photo © Tomas Randysek)

New renumbering tank steam
99 4651 - original 99 211.
(photo © Tomas Randysek)

Detail of steam engine.
(photo © Tomas Randysek)
Steam engine 99 5603.
(photo © Tomas Randysek)

Steam engine 99 211.
(photo © Roman Siler)

Steam engine IVK 99 1590-1.
(photo © Tomas Randysek)
Steam engine G 3/4 11 "Heidi".
(photo © Roman Siler)

Steam engine U37.002.
(photo © Tomas Randysek)

Steam engine U37.002.
(photo © Roman Siler)
Jirka Kut is in one's element.
(photo © Roman Siler)

Steam engine RhB G 4/5 104.
(photo © Tomas Randysek)

Steam engine RhB G 4/5 104 is in
gradient.
(photo © Roman Siler)
Water refulling.
(photo © Roman Siler)

Sometimes we must adjust some-
thing ...
(photo © Tomas Randysek)

... and then we can continue.
(photo © Roman Siler)
Service charge refuelling.
(photo © Tomas Randysek)

Jana and Lenka.
(photo © Tomas Randysek)

<! Ostatní géčka #################################################################>
| | | |
| --- | --- | --- |
| | Steam engines of another modellers: | |
| | | | |
| --- | --- | --- | --- |
| (photo © Tomas Randysek) | (photo © Tomas Randysek) | (photo © Roman Siler) | |
| | | | |
| --- | --- | --- | --- |
| (photo © Roman Siler) | (photo © Roman Siler) | (photo © Roman Siler) | |

<! Vystavovatelé #################################################################>
| | | |
| --- | --- | --- |
| | There were many display stands in hall No. 1. We could buy wide variety of goods on this stands (modeller material, modeller machine tools, models, literarure, modeller accessories). | |
| | | | |
| --- | --- | --- | --- |
| (photo © Tomas Randysek) | (photo © Tomas Randysek) | (photo © Tomas Randysek) | |
| | | |
| --- | --- | --- |
| (photo © Tomas Randysek) | (photo © Tomas Randysek) | |
| | | | |
| --- | --- | --- | --- |
| (photo © Roman Siler) | (photo © Roman Siler) | (photo © Roman Siler) | |

<! Regener #################################################################>
| | | |
| --- | --- | --- |
| | Company Regner from Aurach is a fix star between exhibitors. Its models has most of modellers: | |
| | | | |
| --- | --- | --- | --- |
| (photo © Tomas Randysek) | (photo © Tomas Randysek) | (photo © Tomas Randysek) | |
| | | | |
| --- | --- | --- | --- |
| (photo © Roman Siler) | (photo © Roman Siler) | (photo © Roman Siler) | |
| | | | |
| --- | --- | --- | --- |
| (photo © Roman Siler) | (photo © Roman Siler) | (photo © Roman Siler) | |
| | | |
| --- | --- | --- |
| | Model of steam engine 52 100 is worked in detail: | |
| | | | |
| --- | --- | --- | --- |
| (photo © Tomas Randysek) | (photo © T. Randysek) | (photo © Tomas Randysek) | |
| | | |
| --- | --- | --- |
| | We discovered this robust model of locotractor. This model lend itself to operate work trains with build a park railway. Locotractor has diesel engine and cab for adult. Is very good for operate trains with ballast: | |
| | | | |
| --- | --- | --- | --- |
| (photo © Tomas Randysek) | (photo © Tomas Randysek) | (photo © Roman Siler) | |
| | | |
| --- | --- | --- |
| (photo © Roman Siler) | (photo © Roman Siler) | |

<! Paromobily #################################################################>
| | | |
| --- | --- | --- |
| | Steam cars could not be missing. But this year its were as static models only: | |
| | | | |
| --- | --- | --- | --- |
| (photo © Tomas Randysek) | (photo © Tomas Randysek) | (photo © Tomas Randysek) | |
| | |
| --- | --- |
| (photo © Tomas Randysek) | |

<! Lodní modely #################################################################>
| | | |
| --- | --- | --- |
| | Ship modellers were in hall No. 1, too: | |
| | | | |
| --- | --- | --- | --- |
| (photo © Tomas Randysek) | (photo © Tomas Randysek) | (photo © Tomas Randysek) | |
| | | |
| --- | --- | --- |
| (photo © Tomas Randysek) | (photo © Tomas Randysek) | |
| | | | |
| --- | --- | --- | --- |
| (photo © Tomas Randysek) | (photo © Tomas Randysek) | (photo © Tomas Randysek) | |
| | |
| --- | --- |
| (photo © Tomas Randysek) | |