Number of visitors:


Events:

Our media partner:

Optimized for browser:

Weather at the park railway Olympia: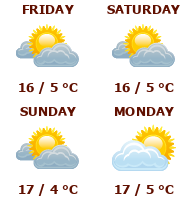 More weather
| | | |
| --- | --- | --- |
| | Reportage drew up: © Tomas Randysek | |
| | |
| --- | --- |
| | |
Already the second year of the international steam meeting with updated name 2nd Steam Olympia 2013 is over with. We hung approved last year scenario - operation at our park railway with domestic and foreign attendance added side events on attached parking place. The second Steam Olympia was separated from children's day or more precisely it was shifted by one week. There was an advantage for us finally because Steam Olympia did not collide with other actions around. Last but not least we thought that more foreign modeller will arrive, because their park railways organize children´s days too. So, you can note 7th - 8th June 2014 into your scheduler as date of the 3rd Steam Olympia.
We started with preparation last year basically, but intensity was an increase before oncoming date of the start. We try to prepare line, all station and facilities for one hundred per cent for our visitors and visiting modellers. The weather was very kindly for us this year. The storms ran around but they avoided us fortunately. There were sunny and hot days during all weekend. Weather was awfully hot sometimes and it was not good for our pointsmen-volunteers because they stood in the sun all day. But they carried out their duties despite hot weather without any emergency. Just us our smiling conductress which punched a lot tickets during both days. Tomas marek and Lucie Silerova had service in the ticket office. Mila, Jana and Milan look after the food and drink - the service was perfekt the prices were mild. The variety of food was really big. There was a live country and blues music on Saturday. Bands Lodnici and K.R. Banda presented the best their repertoire. We greet Pavel Putna - bassist and singer K.R. Banda which had a heavy accidental crash on motocycle after his performance. He is after some surgeries now and we wish to him speedy recovery.

| | |
| --- | --- |
| | |
| | | |
| --- | --- | --- |
| | There were 21 steam, 13 battery and 3 motor engines on Park Railway Olympia. So our offer was really varied this year. 65.000 visitors visited us during weekend. This was the second largest attendance after fireworks Ignis Brunensis. All our trains particularly three large capacity trains pulled both locotractors and TU47 prototype served out really heavy work shifts. Passengers check-in was more quiet compared to last year. Three big trains were simply visible. But any unannounced leaving of some modellers during Sunday morning surprised us because Sunday visitors were deprived of some interesting models. And certainly a lot of food left us too. We ourselves left modellers meetings on Sunday afternoon usually. But there were friendly atmosphere all weekend. | |
Morning flags of the attendance
countries hanging up.
(photo © Tomas Randysek)

Visiting cards preparation.
(photo © Jiri Polak)

A lot of cutting.
(photo © Jiri Polak)
"Let´s move these benches
to our yard."
(photo © Jiri Polak)

"We don´t die by thirst, I think."
(photo © Jiri Polak)

Preparation of the band Lodnici.
(photo © Jiri Polak)
"Let´s go our girls!"
(photo © Tomas Randysek)
Club´s yard IIm.
(photo © Jiri Polak)

Mafioso Karlos.
(photo © Jiri Polak)
Preparation of the locotractor for all-day exacting operation.
(photo © Jiri Polak)
| | | |
| --- | --- | --- |
| | And modellers from all Europe began to arrive gradually: | |
| | | | |
| --- | --- | --- | --- |
| (photo © Jiri Polak) | (photo © Jiri Polak) | (foto © Jan Sajbrt) | |
| | | | |
| --- | --- | --- | --- |
| (photo © Tomas Randysek) | (photo © Tomas Randysek) | (photo © Tomas Randysek) | |
| | | |
| --- | --- | --- |
| | There was the right bustle in front of the round-house: | |
| | | | |
| --- | --- | --- | --- |
| (photo © Tomas Randysek) | (photo © Jiri Polak) | (photo © Tomas Randysek) | |
Petr was among the first.
(photo © Tomas Randysek)

Victoria and Morava.
(photo © Tomas Randysek)

Sic´s group.
(photo © Tomas Randysek)
German and Austrian
representation.
(photo © Tomas Randysek)

Mala draha Skalsko No. 2.
(photo © Tomas Randysek)

Reinhard and 99 211.
(photo © Tomas Randysek)
Robert is driving out
with Ponava.
(photo © Tomas Randysek)

Petr Vidner and his Mala draha
Skalsko No. 3.
(photo © Tomas Randysek)

Ikebara of Jiri Hamacek.
(photo © Tomas Randysek)
Jirka is preparing Solingen.
(photo © Jan Sajbrt)
Zdenek Balsky is oiling his
locomotive Smoschever.
(photo © Jan Sajbrt)

Petr Vidner is moving over
turntable.
(photo © Jan Sajbrt)

Branko Kovac and his JZ 97.
(photo © Jan Sajbrt)
Surely the highest
smokestack far
and wide.
(photo © T. Randysek)

Slovenian friends.
(photo © T. Randysek)

Beer still life.
(photo © Jan Sajbrt)
| | | |
| --- | --- | --- |
| | Battery locomotives have easier preparation basically: | |
| | | | |
| --- | --- | --- | --- |
| (photo © Tomas Randysek) | (photo © Tomas Randysek) | (photo © Tomas Randysek) | |
Passengers had to queue to tickets in front of the ticket office sometimes and then they can choose the right train. Passengers check-in was more quiet compared to last year thanks
to three large capacity trains:
| | | | |
| --- | --- | --- | --- |
| (photo © Tomas Randysek) | (photo © Tomas Randysek) | (photo © Tomas Randysek) | |
| | | |
| --- | --- | --- |
| (photo © Tomas Randysek) | (photo © Tomas Randysek) | |
| | | | |
| --- | --- | --- | --- |
| (photo © Tomas Randysek) | (photo © Jan Sajbrt) | (photo © Tomas Randysek) | |
| | | |
| --- | --- | --- |
| | Participating models summary: | |
JZ 97-025
Branko Kovac
Slovenia.
(photo © Tomas Randysek)

K 3
Miha Omerza
Slovenia
(photo © Tomas Randysek)

BR 24 032
Erich Ninaus
Austria
(photo © Tomas Randysek)
99 211
Reinhard Lorenz
Austria
(photo © Tomas Randysek)

SMOSCHEWER
Zdenek Balsky
Czech Republic
(photo © Tomas Randysek)

MALA DRAHA SKALSKO 3
Petr Vidner
Czech Republic
(photo © Tomas Randysek)
MALA DRAHA SKALSKO 2
Ladislav Pousek
Czech Republic
(photo © Tomas Randysek)

ROMULUS
Ladislav Hlava
Czech Republic
(photo © Tomas Randysek)

KAROLINENHOF
Ales Macha
Czech Republic
(photo © Tomas Randysek)
VICTORIA
Pavel Uhlir
Czech Republic
(photo © Tomas Randysek)

SOLINGEN
Jiri Sajbrt
Czech Republic
(photo © Tomas Randysek)
E 4
Peter Schlagbauer
Austria
(photo © Tomas Randysek)

ÖBB 2070 076-1
Jöerg Scherr
Austria
(photo © Tomas Randysek)

GEBUS
Herbert Trieb
Austria
(photo © Tomas Randysek)
BH StB III5b
Thomas Winkler
Austria
(photo © Tomas Randysek)

M 131
Petr Kopřiva
Czech Republic
(photo © Tomas Randysek)

M 131
Miroslav Chadima
Czech Republic
(photo © Tomas Randysek)
T 678.012
Bohumil Pavlicek
Czech Republic
(photo © Tomas Randysek)
BARBORA
Petr Bauer
Czech Republic
(photo © Tomas Randysek)

99 211
Reinhard Lorenz
Austria
(photo © Tomas Randysek)

SOLINGEN
Jiří Sajbrt
Czech Republic
(photo © Tomas Randysek)
AEG No. 9
Martin Siler
Czech Republic
(photo © Tomas Randysek)

WDEF
ARGO s.r.o.
Czech Republic
(photo © Tomas Randysek)
KRZENOWIC
Tomas Randysek
Czech Republic
(photo © Tomas Randysek)

T 478.1016
Bohumil Pavlicek
Czech Republic
(photo © Tomas Randysek)

GMEINDER
ARGO s.r.o.
Czech Republic
(photo © Tomas Randysek)
BH StB III5b
Thomas Winkler
Austria
(photo © Tomas Randysek)

E 94 042
Wolfgang Rudolph
Germany
(photo © Tomas Randysek)

E 94 042
Wolfgang Rudolph
Germany
(photo © Tomas Randysek)
Morava before one of the
afternoon departure.
(photo © Tomas Randysek)

Trains variation.
(photo © Tomas Randysek)

Waiting for departure.
(photo © Tomas Randysek)
Austrian E 4 from Bruck.
(photo © Tomas Randysek)

"Crocodile" of Wolfgang Rudolph
poses in front of the round-house.
(photo © Tomas Randysek)

275 021.
(photo © Jiri Polak)
The new club locomotive TU 47.002 got premiere although it is not completely finished yet.
It contributed its stable power to handling of the passengers onrush:
| | | | |
| --- | --- | --- | --- |
| (photo © Tomas Randysek) | (foto © Lukas Randysek) | (photo © Tomas Randysek) | |
| | | |
| --- | --- | --- |
| | The club´s locotractors GMEINDER and WDEF operated with next two large capacity trains: | |
| | | | |
| --- | --- | --- | --- |
| (photo © Tomas Randysek) | (photo © Tomas Randysek) | (photo © Tomas Randysek) | |
| | | |
| --- | --- | --- |
| | All club´s locomotives helped to large capacity trains: | |
| | | | |
| --- | --- | --- | --- |
| (photo © Tomas Randysek) | (photo © Tomas Randysek) | (photo © Tomas Randysek) | |
| | | | |
| --- | --- | --- | --- |
| (photo © Tomas Randysek) | (photo © Tomas Randysek) | (photo © Tomas Randysek) | |
| | | | |
| --- | --- | --- | --- |
| (photo © Jan Sajbrt) | (photo © Jan Sajbrt) | (photo © Jan Sajbrt) | |
| | |
| --- | --- |
| (photo © Jan Sajbrt) | |
Viennese BH StB III5b.
(photo © Tomas Randysek)
Viennese GEBUS.
(photo © Tomas Randysek, Lukas Randysek)
E 4 departure to the line.
(photo © Tomas Randysek)

Hradec M 131 passages
by siding station.
(photo © Tomas Randysek)

Omerza Miha is taking his colleague.
(photo © Jan Sajbrt)
Romulus during push Ikebary.
(photo © Jan Sajbrt)

Mala draha Skalsko No. 2.
(photo © Jan Sajbrt)

M 131.
(photo © Jan Sajbrt)
| | | | |
| --- | --- | --- | --- |
| (photo © Jan Sajbrt) | (photo © Jan Sajbrt) | (photo © Jan Sajbrt) | |
When the smokestack is smoking.
(photo © Jan Sajbrt)
Club´s steam locomotives at the station and line.
(photo © Jiri Polak)
I must oil everything at the first and loco goes all alone.
(photo © Jan Sajbrt)
Pavel Uhlir showed off a new model battery locomotive 103 001-4, which he discovered quite languish in depot Praha-Vrsovice long ago. The shape without pantograph proceed from this time.
Model is not completely finished yet, but it will extend our rolling-stock soon.
It will be especially suited to Petrs´s locomotive T 211:
| | | | |
| --- | --- | --- | --- |
| (photo © Tomas Randysek) | (photo © Tomas Randysek) | (photo © Tomas Randysek) | |
Sic´s group tried to heat their beauty 275 021 for the first time.
They went outside the station only and then the went back to depot for someunknown reason. We wish them so that to go all line next time:
| | | | |
| --- | --- | --- | --- |
| (photo © Tomas Randysek) | (photo © Tomas Randysek) | (photo © Tomas Randysek) | |
Jano could savour trip by train
with his family. After all he
participated in station building.
(photo © Tomas Randysek)

We took trippers from Olomouc
for a ride after closing time. But
they arrived from a such distance.
(photo © Tomas Randysek)
Some passengers helped us
with transport of aids to the line.
(photo © Jiri Polak)

But all passengers enjoyed trip.
(photo © Jiri Polak)
| | | | |
| --- | --- | --- | --- |
| (photo © Jan Sajbrt) | (photo © Jan Sajbrt) | (photo © Jan Sajbrt) | |
| | | | |
| --- | --- | --- | --- |
| (photo © Jan Sajbrt) | (photo © Jan Sajbrt) | (photo © Jan Sajbrt) | |
| | | | |
| --- | --- | --- | --- |
| (photo © Jan Sajbrt) | (photo © Jan Sajbrt) | (photo © Jan Sajbrt) | |
| | | |
| --- | --- | --- |
| | The conductors punched tickets all day continuously: | |
| | | | |
| --- | --- | --- | --- |
| (photo © Jiri Polak) | (photo © Jiri Polak) | (photo © Jiri Polak) | |
| | | | |
| --- | --- | --- | --- |
| (photo © Jiri Polak) | (photo © Jiri Polak) | (photo © Jiri Polak) | |
| | | |
| --- | --- | --- |
| (photo © Tomas Randysek) | (photo © Tomas Randysek) | |
| | | | |
| --- | --- | --- | --- |
| (photo © Jan Sajbrt) | (photo © Jan Sajbrt) | (photo © Jan Sajbrt) | |
The weather was awfully hot sometimes and it was not good for our pointsmen-volunteers
because they stood in the sun all day. But they carried out their duties despite
hot weather without any emergency:
| | | | |
| --- | --- | --- | --- |
| (photo © Tomas Randysek) | (photo © T. Randysek) | (photo © Tomas Randysek) | |
| | | |
| --- | --- | --- |
| (photo © Tomas Randysek) | (photo © Tomas Randysek) | |
| | | |
| --- | --- | --- |
| | The rich side events was prepared for visitors at attached parking place. They could admire working steam engines of all types and sizes. There were small steam locomotives on club´s yard, Sentinel, steamroller CKD Mamut, steam locomobiles, lorry Opel with wood gas from 1936 and functional steam bicycle from 1869. Historical buses of Technical museum Brno formed an integral part of side events. They went to Modrice and back. We prepared attendance of steam engines a few months in advance. This fact alone transport of special trailers is very expensive and our financial possibilities are not unlimited. Thank you very much shopping centre Olympia and municipality Modrice for financial help and they contributed to procuring these steam jewels. This is surely reciprocal symbiosis because rich side events bring more visitors and most of them, particularly ladies and young ladies, certainly visit Olympia shopping centre too. | |
| | | |
| --- | --- | --- |
| | Our club´s yard was one of the main crowd-puller. There were a new models except steam perennial stars. Mr Regner and his wife visited us despite Manfred´s health problems. But majority our models come from their family business in German Aurach. | |
| | | | |
| --- | --- | --- | --- |
| (photo © Tomas Randysek) | (photo © Tomas Randysek) | (photo © Tomas Randysek) | |
| | | | |
| --- | --- | --- | --- |
| (photo © Tomas Randysek) | (photo © Tomas Randysek) | (photo © Tomas Randysek) | |
This model built Honza Filko
himself. It´s a very good job
for his age.
(photo © Tomas Randysek)

"Loucka" of Michal Zamazal
doesn´t go very often.
(photo © Tomas Randysek)

LGB model adapted for RC control.
(photo © Jan Sajbrt)
Transport of road vehicles by railway.
(photo © Jan Sajbrt)
Mr Regner gladly explains
function of steam engine.
(photo © Tomas Randysek)

Jirka Dalecky makes a place
for locomotive heating.
(photo © Tomas Randysek)

"Morava" of Jirka Dalecky is one
of club´s locomotive "Betty" type.
(photo © Tomas Randysek)
Karel´s tank and barrels with the first aid.
Writting "Wasserwagen" on tank is not too current.
(photo © Tomas Randysek)
Guru of steam models.
(photo © Tomas Randysek)

Karel picks at one´s locomotive.
(photo © Tomas Randysek)
Jirka Dalecky with U locomotive.
(photo © Tomas Randysek)

Necessary water refill.
(photo © Tomas Randysek)

Jirka´s Mh.6 on the line.
(photo © Jan Sajbrt)
Petr Herka introduced his yard Czernowitz in scale Oe,
which presented model of the field narrow-gauge railway.
(photo © Tomas Randysek, Jan Sajbrt)
Steam engine of Pavel Buchta is working on compressed air meantime,
but it lights working area over powered dynamo.
(photo © Tomas Randysek, Jan Sajbrt)
Karel Vykydal introduced his unfinished locomotive and steel truss bridge.
(photo © Tomas Randysek)
Nice model 475.111 of Jan Barton was exhibited only on stand thanks to floods.
His attendant team solved more important problems at home instead of transport and track building.
(photo © Tomas Randysek, Jan Sajbrt)
Boys from MPZ Zbysov carried interested persons with their mining locomotive BN30.
(photo © Tomas Randysek)
Brothers Konopac ran around parkin place with steam locomobile.
(photo © Tomas Randysek, Jan Sajbrt)
Next locomobile of Ladislava Sedivy posed stationary.
(photo © Tomas Randysek, Jan Sajbrt)
Petr Bauer from engine shed Zlichov brought steamroller Mamut from 1920.
This fact alone downhill from flatbed trailer is interesting spectacle.
(photo © Tomas Randysek)
Sentinel from Museum of the old engines from Zamberk.
(photo © Tomas Randysek, Jan Sajbrt)
Antonín Pavelka brought besides other things functional steam bicycle
and he demonstrated trips on parking place, sometimes together with Sentinel too.
(photo © Tomas Randysek)
Next his unique object - Opel pick-up from 1936 with wood gas .
(photo © Tomas Randysek, Jan Sajbrt)
Motobicycle Mercedes with engine Ducati 50 ccm from 1932
belongs to Ladislav Sedivy from Tabor.
(photo © Tomas Randysek)
Buses of Technical museum.
(photo © Tomas Randysek)

SKODA 706 RO
(photo © Tomas Randysek)
KAROSA SL 11.
(phfoto © Lukas Randysek)

IKARUS 280.
(photo © Lukas Randysek)

KAROSA SM 11.
(photo © Lukas Randysek)
Bus stop.
(photo © Jan Sajbrt)
Historical line to Modrice.
(photo © Tomas Randysek)
Jenik caught some aerial photographs to 2nd Steam Olympia.
Although he had to take photos over glass it all turned out well:
| | | | |
| --- | --- | --- | --- |
| (photo © Jan Sajbrt) | (photo © Jan Sajbrt) | (photo © Jan Sajbrt) | |
| | | | |
| --- | --- | --- | --- |
| (photo © Jan Sajbrt) | (photo © Jan Sajbrt) | (photo © Jan Sajbrt) | |
| | | | |
| --- | --- | --- | --- |
| (photo © Jan Sajbrt) | (photo © Jan Sajbrt) | (photo © Jan Sajbrt) | |
| | | |
| --- | --- | --- |
| | Country band Lodnici played us on Saturday morning: | |
| | |
| --- | --- |
| (photo © Tomas Randysek) | |
| | | | |
| --- | --- | --- | --- |
| (photo © Tomas Randysek) | (photo © Tomas Randysek) | (photo © Tomas Randysek) | |
| | | |
| --- | --- | --- |
| | K.R. Banda changed them afternoon. This band specialize to blues compositions: | |
| | |
| --- | --- |
| (photo © Tomas Randysek) | |
| | | | |
| --- | --- | --- | --- |
| (photo © Tomas Randysek) | (photo © Tomas Randysek) | (photo © Tomas Randysek) | |
| | | |
| --- | --- | --- |
| (photo © Tomas Randysek) | (photo © Tomas Randysek) | |
| | | | |
| --- | --- | --- | --- |
| (photo © Tomas Randysek) | (photo © Tomas Randysek) | (photo © Tomas Randysek) | |
| | | |
| --- | --- | --- |
| | Milena, Jana and Milan look after boarders. There was plenty of food and drink and every could choose to taste. We grilled and talked in the evening as usual: | |
Goulash distribution.
(photo © Tomas Randysek)

Milena and Jana.
(photo © Tomas Randysek)

Head barman Milan.
(photo © Tomas Randysek)
Afternoon refreshments
preparation.
(photo © Tomas Randysek)

Chief of our kitchen.
(photo © Tomas Randysek)
Evening barbecue.
(photo © Jiri Polak)
The boys used cars as place for food. They couldn´t tear themself away from them.
(photo © Jiri Polak)
| | | |
| --- | --- | --- |
| | A few photos of engine drivers: | |
| | | | |
| --- | --- | --- | --- |
| (photo © Tomas Randysek) | (photo © Jan Sajbrt) | (photo © Tomas Randysek) | |
| | | | |
| --- | --- | --- | --- |
| (photo © Jiri Polak) | (photo © Jiri Polak) | (photo © Jan Sajbrt) | |
| | | |
| --- | --- | --- |
| (photo © Jiri Polak) | (photo © Jan Sajbrt) | |
In front of the round-house.
(photo © Tomas Randysek, Jiri Polak)
"Now a cup of coffee yet
and let´s go heating."
(photo © Tomas Randysek)

"Who will write it?"
(photo © Tomas Randysek)

"Our flag is prettiest anyway."
(photo © Jiri Polak)
"So we will sell tickets
with green stripe today."
(photo © Jiri Polak)

"Here we are with steam bicycle
and lorry with wood gas."
(photo © Tomas Randysek)
"This man need a little
coal. He has come
a long way and
he is very hungry!"
(photo © Jiri Polak)

Cameraman.
(photo © Jiri Polak)

"Do you like the fifth
sausage even?"
(photo © Jiri Polak)
"I´m waiting for the front man
smile."
(photo © Jiri Polak)

Discussion about locomotives
construction.
(photo © Jiri Polak)

"I wanted steam beer!"
(photo © Jiri Polak)
"It is drive very well.
You must try it yourself."
(photo © Tomas Randysek)

"Lukin didn´t lay really,
it´s drive excellently!"
(photo © Tomas Randysek)

"We got the sense of taste.
Do you have too?"
(photo © Tomas Randysek)
"Slovene cheers!"
(photo © Jan Sajbrt)

They are made for each other.
(photo © Jan Sajbrt)

"Hey boys, you are late 1 minute!"
(photo © Jan Sajbrt)
"Attention, the hose is dirty."
(photo © Jan Sajbrt)

"I was bored during winter
so I riged up TU locomotive."
(photo © Jan Sajbrt)

"Red all around."
(photo © Jan Sajbrt)
Noon relaxation.
(photo © Jan Sajbrt)

A little snack.
(photo © Jan Sajbrt)

We irritated crested lark last
year and we roused European
hare this year.
(photo © Jan Sajbrt)
Final ride for our hen party.
We served Sylvan wine.
(photo © Tomas Randysek)
| | | |
| --- | --- | --- |
| | We would like thank all visiting modellers which variegated programme of the Steam Olympia their big or small models. Especial acknowledgement belongs to shopping centre Olympia which supported Steam Olympia financially - allowance for side events and media advertising were important help for us. We thank municipality Modrice for financially allowance for historical buses operation. Last but not least we thank all our members, their dependants and voluntary workers which helped with preparation, operation and formation of perfect background during 2ns Steam Olympia. We would like to welcome you next year. It will pass over in no time certainly. | |