Number of visitors:


Events:

Our media partner:

Optimized for browser:

Weather at the park railway Olympia: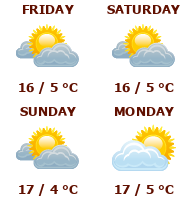 More weather
The track is built to the N. E. M. standards (see here) and is three-rail dual gauge – 5" (127 mm) and 71" (184 mm). It is constructed from steel U-rolled sections (20 × 40 × 5 mm.) and has a total length of 1.5 km. The maximum gradient is 10‰, which begins immediately behind the central station. The minimum radius on the main line is 12 m; the intermediate loop has a radius of 10 m. There is a bridge for the in-line roller-skating which has a headroom of 170 cm and the entrance gates to the depots have a clearance of 160 cm. The level crossings have warning lights and audible alarms.

The main station provides you fully functional facilities. Electric hookup, demineralize water, coal (anthracite), wood coal, compressor and hydraulic platform for easy unloading and loading are available for us. Parking for visitors is available in the neighbouring Olympia shopping centre car parks. This parking area can also be used for motor homes and caravans. For those wishing to stay overnight it should be noted that there are no facilities for water or electricity and prior notice must be given.
| | |
| --- | --- |
| | |
| | | |
| --- | --- | --- |
| | Since, in view of the fact that all park area, including park railway, is guarded by security service permanently, is necessary report your visit in advance on the following e-mail or filling application form (EN) or (DE). You prevent useless troubles related yours identity check on the part of the security service. | |
The Society domicile:
U Dalnice 777, 664 42 Modrice, Czech Republic

If you will have any questions or suggestions, you can contact us on following address:


| | | |
| --- | --- | --- |
| | If you can visit us that subsequent maps will help you to find us: | |
| | | |
| --- | --- | --- |
| | Online map of the Shopping and breather centrum Olympia | |