Number of visitors:


Events:

Our media partner:

Optimized for browser:

Weather at the park railway Olympia: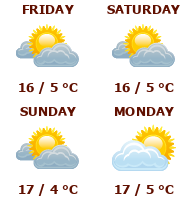 More weather
Text assembled: © Roman Siler
Photo: © Tomas Randysek, Jiri Sajbrt, Roman Siler
Railwaymodeling

Railwaymodeling is very good hobbitry for leisure time. We need not very comment this hobby. World of railway models is greatly broad. Except home indoor models (in scales 0, HO, TT, N) we can meet outdoor models (garden railway models in scales II or G). But any more larger models exists, too - models with operating staff. Modeller sits directly on this model and he controls it. Steam engines are most interesting from this category because models are fully functionality.

Attractivity of large scale models is not only their size and functionality. They are very powerful and stable and they can carry passengers. Beholder going to be a passenger. Railway traffic simulation is near to reality.



Park railway in Le Bouveret (CH) - passengers train
with diesel locomotive.

Park railway in Le Bouveret (CH) - visiting model
from Czech Republic (Jiri Sajbrt, Brno).
Large scale models operating

Models with operating staff runs on wheel gauge 89 mm (3 1/2 inches - size 3), 127 mm (5 inches - size 5) and 184 mm (7 1/4 inches - size 7) or 190 mm (7 1/2 inches - size 7 in the USA). Larger wheel gauges exist too, but they are not far too extended. Wheel gauge 89 mm is problematic regarding size and instability of models.

So wheel gauges 127 mm and 184 mmm are most widespread. Scale of models are derived from wheel gauge and model proportion. Scale of models are from 1:11 (standard gauge models on wheel gauge 127 mm) till 1:3 (narrow gauge models on wheel gauge 184 mm). These railways we can name as "park railways".

The number of large scale modellers is not too great (about some few thousand). You must be very skilful and equipped with technical for construction these models and if you want to buy such model then you must have considerable financial resources. However the yard for these models is a common problem. There are such yards in Germany, England, Switzerland and Austria - typical countries with public interest in railway technic. Czech Republic fall behind these countries on the ground of different social development in the past. We are witness of increased concern about park railways and increased numbers of owner these models, fortunately.

There are a lot of club park railways in Europe and North America. Mostly private models are in operation on these yards. Most of private yards are open for public in reserved days. Visitors can carry on passenger trains. Profit from this activity is used for another club development. Simillar yards is missing in the Czech Republic meanwhile.



Park railway in Le Bouveret (CH). Main station for
passenger boarding. There is a private train of club
member in the picture.

Park railway in Le Bouveret (CH). Commercial train
with 184 wheel gauge is conducted by model of
cog-wheel railway.
| | | |
| --- | --- | --- |
| | Draft of park railways is different. Yard is often only simple oval with a number of switches about 300-500 meters. It is sufficient for steam models, where is the steam model attendance as main operation. These simple yards are not very attractive for watchers. Anothers lines are many more extensive (track lenght is longer than 1 kilometer) and many more broken. You can see modelling scenery, bridges, tunnels, railway and civil objects. An example of this is park railway in Switzerland, in market-town Le Bouveret close by Geneva lake. There is maybe most perfect park railway in Europe with lehgt about 1,6 km. Details of this park railway you can see on the following web pages WWW.DRAH-SERVIS.CZ or WWW.RAILMAN.CZ. | |
| | | |
| --- | --- | --- |
| | | |
| | | |
| --- | --- | --- |
| | | |
Park railway in Le Bouveret. There is a visiting model with passenger cars size 5" (127 mm) in the upper
left picture. This is a steam engine Ponava from Brno. There is a domestic train in the upper right picture.
Passengers are current visitors of park, which they can ride in whichever train. All park is fenced and
visitor pays full time entrance fee and they can use all services (restaurant, snack-bar, gift shop)
and they can walk arround by the perfect modelling scenery with bridges, tunnels and small lakes.
There are a picnic tables in the park, where you can see family reunions and potluck lunches, too.



Modeller club in Brno

Group of garden railway modeller (in scale 1 and 2, wheel gauge 45 mm) drawed together in Brno. This group declare their interest in large scale models. They established Society of the Moravian Park Railways (S.M.P.D. Society). Individual members of S.M.P.D. Society provided models, made mobile yard and passenger cars. They started an operation for public with these models (for example on Brno fair ground) and started to visit park railways in Austria and Switzerland. They participating on international indoor meetings too (fair ground Sinsheim). S.M.P.D. Society is trying to contact non Brno´s modellers.
Echtdampf Hallentreffen Sinsheim. Indoor meeting
of steam modellers in Sinsheim, Germany.
Domestic commercial train of company
MALU-BAHN on wheel gauge 184 mm.

Park Railway Heizhaus Strasshof.
Visiting model from Brno. Steam engine ANDPIE
indigenous South Africa on wheel gauge 127 mm
(Roman Siler).
Building of stationary yard for models size 5" (wheel gauge 127 mm) and 7" (wheel gauge 184 mm) was determine as principal aim. This park railway, organisation and equipment would have been on front-end European standards. Commercial operation will be part of modeller activity because it helps for club economy and it encourages interest of young people for railway and modeller work generally.

Trip is very important for modellers, because passengers are as transported goods. They are natural tonnage of trains (trains with tonnage have notably properties) and operating staff can exercise many activities related to train dispatch. Operating vith passengers is a spice of simulation railway traffic.





Brno park railway conception

Be based on experience from stationary park railways in Europe, following parameters were provide:
• track lenght at least 1 kilometer, ideally 1,5 km
• track for wheel gauges 127 and 184 mm (abaxial triple-rails)
• steepest gradient to 1%
• minimum curve radius 12 m
• possibility building of necessary railway objects (round-house, depot, terminal building, covered platform, workroom)
• possibility building of track objects (tunnels, bridges, crossings)
• trains for public on wheel gauge 184 mm with passenger cars in scale c. 1:3
• reasonable availibility for visitors



Christmas trade Brno. Steam model of locomotive
The Rocket in scale 1:11 on wheel gauge 127 mm
(Jiri Kut).

Park railway DBC Graz. Visiting model ANDPIE
from Brno on wheel gauge 127 mm
(Martin Siler).
The parcel is a pivotal problem for building of park railway. Area of parcel must be large with the inclusion of segmentation and hilly terrain. But neither of members has not that parcel and prices of commercial parcels are very expensive for club and single members.





Offer of Olympia Brno

Early 2009 year, shopping centrum Olympia Brno offered to building park railway between shopping and breather centrum and Svratka river in newly building green park. Sport, relax and cultural facilities will belong this green park. Commercial operating of park railway is prerequisite.
Proposal park railway in shopping and breather centrum Olympia Brno.
There are in-line skating rink, big mountain cliff, amphitheatre, rope attractions and entertainment
components for children in green park. This park is attached to bicycle lane along the river Svratka.
| | | |
| --- | --- | --- |
| | We started follow-up negotiations on reflection all conditions. It was clear that owner of shopping and breather centrum will prefer commercial operating. This demand is slightly interfering with interests of modellers. By mutual account of standpoints we set to negotiation of long-standing agreement about building and exercise park railway in the green area. The main argument for commercial operating is high visit rate in the shopping centre with attraction zone. This area is perhaps best in Brno and vicinity. But we do not know, if operating will be profitable. Risk of future wrong economic situation is undergoing for both parties. Park railway Brno will pioneer within the scope of the Czech Republic. | |
Park railway DBC Graz.
Club commercial train with diesel locomotive
on wheel gauge 184 mm.

Park railway Heizhaus Strasshof.
Brno´s visiting model KRZENOWIC
(Tomas Randysek).
| | | |
| --- | --- | --- |
| | Three subjects will participate in building and operating park railway. Landed proprietor Olympia Brno as lessor will building track for park railway. Newly based company of modellers Argo spol. s r.o. as leaseholder will building technical and operating facilities and will supply commercial operating. Modeller club (Society of the Moravian Park Railways - S.M.P.D. Society) will partake of building, operating and maintaining of park railway by voluntary work of club members. And they will partake of future development, hopefully. | |
| | |
| --- | --- |
| Drawing of the main station. | |
Club activity is very important and it presents essential mine of »human energy« necessary to ensure serviceability of park railway.





Preparing project of Park railway Brno

Park railway with 5" and 7" models will into service in summer season from April till October. For exceptional occasions we will operating also except regular operation. Operating for public will be on weekends and holidays and this operating may be modify. This park railway will provide a modeller club activities. We suppose to organizing of international modeller meetings with visiting models operating.
| | | |
| --- | --- | --- |
| | | |
Christmas trade Brno - Brno´s fairground.
Model trains on wheel gauge 127 mm. Mobile yard of Brno modellers.
Overall lenght about 250 meters. Steam and battery models operating.




The park railway will build with wheel gauges 127 a 184 mm (abaxial triple-rails) as double-track with ending loops. Minimal curve radius is 12 meters, maximal climbing cruise is 1%.

Departure gate is main railway station with station bulding, platform for visitors (passengers), workroom, depot and round-house. The yard will connect operating properties and it will enable to wagons moving and making-up of trains. Main station is organized for commercial as well as for non-commercial operating models 5" and 7". Technical equipment have to enable steam engine operating.





Track layout

Track is conducted from main station by double-line. It is passing under in-line skating rink by curve and then it is ascending to green area by two counter curves. Here is a small station (e.g. for models with technical trouble), one reset loop (for shortening a circle) and large ending loop with a double tracked station. Because the first section has gradient 1 % in curves, you can assume some problems above all small steam models of beginning modellers. We would like to make one more turning place at close quarters of the main station. Track is conducted in changeable distance at green area. Imitation terrain will formed so that it suitable complementary to track by elevations and depressions. Eminent Brno´s landscape planner Zdenek Sendler is responsible for ornamental plant gardening and decorative objects location in green area.
| | | |
| --- | --- | --- |
| | | |
Children´s day Ricky.
Model railway operating on grassy fotball field in Ricky. Rough surface is a technical problem,
because tracks straighten these roughnesses very hardly.




Line will crossing only by pavements for safety reasons. Crossing with in-line skating rink will solved by underbridge with regard to fast motion of skaters.

Safeguard by signaling will reduced on not providing an easy survey places - area near tunnel, return loop around round-house, area around platforms and station gridiron. Interlocking plant will build step by step and it will react to development of operating conditions.

There will narrow hard (paved) surfaces beside the small stations for safe movement of modellers around the trains. These stations will not be use for passengers dispatching meanwhile. But they must be furnished with water bunkers for steam engines watering. Water deficienc is critical for boilers of steam engines.





Rolling-stock

Rolling-stock for commercial operating will designed for wheel gauge 184 mm. Vehicles will 60 cm wide. These dimensions make possible to setting a passenger cars with sidewalls, that are very important for passengers' safety, especially children. Passenger trains will have compressed-air brake. Is intended to be setting vehicles with modern design and historicist vehicles, too. Thematic will give priority to models from Czechoslovakia and Czech Republic. Traction models will with gas-engine and with steam driving. Locomotive with gas-engine are necessary considering high operating dependability and immediate readines for service. Also servicing is less exacting. Battery models will used as additional while an actions with more highly participation. But necessity of battery charging deteriorates readiness for operation. Model steam engines are very atractive for public. But these models have longer preparing for operating (starting-up the boiler), service charges are more expensive and general servicing is time-consuming. Staff has to be well-skilled.
| | | |
| --- | --- | --- |
| | | |
Mobile yard building is very exacting. More brigade-workers are necessary.
You must have level surface and sufficient space for reversible loops.




Rolling-stock for club operating is consist of individually owned models with wheel gauge 127 and 184 mm (purchased or self-made models) - locomotives, coaches, waggons and working cars. Passenger pew cars will use for occasional operation of small models (gauge 1:11). But rolling-stock will extended all the time, because models construction is one of important club members activities.

Service and technological vehicles will introduced into rolling-stock too. They will designed as 184 mm wheel gauge, because their stability is most important. They will especially ballast wagons, lowloading trailers for rails, wagons for tools and units, sweeping cars, watering-carts for track moistening on hot summer days. Projected track is very long and using above-mentioned vehicles is necessary.
| | | |
| --- | --- | --- |
| | | |
Waterfront of steamlovers in Hradec Kralove 2009.
Steam meeting with heavy participation of public. All parts of mobile yard and models
must have been transport by cargo truck. We drove down about 1200 passengers.




Description of objects in the main station

Main station collects every technical and visitors´ rear. Movement of visitors will spatially regulated for security reasons. No entrance areas will determinate. Visitors will come into station by one pavement from parking place and by one pavement from green area. One driveway have to be available for supply of material. Parking for visitors will in the car park of the shopping centrum Olympia. But traverse table for all vehicles must be installed.
| | |
| --- | --- |
| Layout drawing of the main station. | |
Station building

This is a cellarless bricked building with saddle roof. Used building material - Ytong packets or bricks. The roof will classic - wooden rafters with shingle roof. The building is model of real railway building from turn of the 19th and 20th century. Station building is warming up with electric heating and it has next segmentation:

• Daily room - for staff only. The entry is from hold yard side. There are kitchen, seating room, office and distribution boards in the daily room. It is designed for members of S.M.P.D. too.

• Cloak-room - entry is from daily room. There are wardrobes and bench in cloak-room. Supposed number of staff in one cloak-room is circa 4.

• Social settlement - entry is from cloak-room. There are wash-basin, toilet, sink and shower base in social settlement

• WC for visitors - gents room and Ladies´ room separately. There is wash-basin in foyer. Entry into WC is from platform side.

• Cash desk - room for staff. Entry is from platform side. Selling railway tickets and additional assortment. The room includes bookshelves and table for cashier under the windows.
| | |
| --- | --- |
| Station building drawing. | |
Workshop

This is a cellarless bricked building with saddle roof. Used building material - Ytong packets or bricks. The roof will classic - wooden rafters with shingle roof. There are three arrival gates from one side. One for free-wheeled vehicles acces, another two for rail vehicles. Rails are embedded into concrete floor as abaxial triple-rails. There is personnel entrance from another side.

Workshop is furnished with routine machinery and tools for vehicles maintaining (drill press, grinding machine, press, welder), work-tables and upstream equipment for models. There are spares for models and track maintenance and rack storage systems in the workshop.

Summerhouse is outbuilding of workshop and it serves for needs of S.M.P.D. Society. Construction of the summerhouse is wooden.
| | |
| --- | --- |
| Workshop drawing. | |
Shed

This is a cellarless low and long building with entrance for rail vehicles. Shed is intended for side tracking of passenger cars and work cars. The building is no warming up without tempering. Construction materials is concrete. Side wall to the road will covered with earth. Side wall to the station building will equipped with windows (glasscrete) and back wall will equipeed with air vents.
| | |
| --- | --- |
| Shed drawing. | |
Round-house

This building is classical round-house with central turn-table. There are track from turn-table (swing bridge 3m long with hand drive) for separate standing over entrance gates. Track in round-house will in waist-high (off the ground) for ease of maintenance.

The bricks will as building material. The roof with air chimney will wooden. Facade will evoke classical half-timbered railway building. The concrete floor will waterproof and weathered. Entrance gates will wooden or wainscot.

Interior will tripartite. The first part will for precleaning of steam engines after operating (ash cleaning, water and condensations discharge, clearing by power water etc.). This part will separated by blank wall and it will tailored to work with spraying water. The second part is intended for deposting of the operating steam engines. This part will placed on the other side of round-house and it will surrounded with polystyrene board and tempered. Remaining part will for standing of others locomotives. There will work tables along outside wall.

The round-housewould have been furnished with modified water distribution for engine boilers, distribution for compressed air and mains outlets in every standing. Dust extractors and sinks be at the disposal of all modellers.

Entrances to the round-house will at both ends. There will enry steps near entrance gates.
| | |
| --- | --- |
| Round-house drawing. | |
Roofed-in platform

Island platform for passengers is placed between second and third rail of the departure section. The first and fourth rails are solved as bypass for model trains without passengers (visiting models e.g.)

The platform will roofed-in in the middle part. The roof will be wooden - it is replicate real railway building from turn of the 19th and 20th century.





Supposed horizontal bar chart

New green park Olympia will opened on May 2010. All facilities and attractions will into service at that time - without park railway. For park railway will built-up ground shaping and bridge objects. Substructure, superstructure and place for main station will prepared. Rails en all route will grounded, maybe.
Indoor steam meeting Sinsheim.
Preparing and firing of steam engines in depot.

Trade fair Models 2008.
Operating of model trains on mobile yard
about 200 meters in pavilion G.
We can operate our existing steam models in the inauguration. We must build up the most necessary provisional technical facilities. Operating for passengers could have been in limiting range. For example - one weekend in a month. All vehicles could have been take in and take on each operating day.

We have to build a workroom at first. This workroom will be using as warehouse and our hinterlant for next objects building too. The second building will station building which give to social background for staff and visitors. Shed for passenger cars will next building in order. Round-house for locomotives will the last building because this building will very complicated for construction and it will also very expensive.

Development must be well organized so as to it does not disturb park railway operation during building-up. Development has to take as few as possible time.
Park railway Heizhaus Strasshof.
Brno´s steam train on gridiron
of the central station.

Park railway DBC Graz.
Model of steam locomotive Rocket.
Our object is building a central station and open railway station to the full extent in summer season 2011. Commercial rolling-stock on wheel gauge 184 mm must be made in this time. We would like construct Czech narrow gauge diesel locomotive CSD TU47 in scale 1:3, buy a powerful steam engine in Germany or Switzerland and would like make two types of passenger cars for commercial trains with capacity 30-40 passengers.

We will gradually radiate park railway in next years, if the operating will successful. We can supplement another facilities step by step (telltale, buttress walls, bridges, culverts) which beautify ambient and improve experiences of visitors. Central station can be supplement too (signal box, water tower, coal- loaging equipment, lamp room e.c.). Park has certain potential for next railway expanding, but this is a further future.
| | | |
| --- | --- | --- |
| | | |
Fair trade "For Child 2009" in Brno´s fairground.
Railway on gallery of pavilion B about 350 meters.
Operating record - 2200 lifted passengers per day.




Funding of build-up

Share of the lessor (shopping park Olympia) is moneywise assured on the present. Furthermore private financial resources of Brno´s modellers are ready. These resources carry for fabrication of the workshop and the station building. And for development and construction of commercial vehicles, too.

We must make another finance (private or public) for building next objects in the central station and for rolling-stock construction.
| | | |
| --- | --- | --- |
| | | |
Christmas trade 2008 in Brno´s fairground.
Park railway was built in pavilion F. Overall lenght had 300 meters and it was laid as double-track
with two ending loops and with one multi-track station.




All range of possibilities be offering to help Park railway Brno. This is mean help by construction materials presents, implemetation of designing works or building works at a lower pricec, and others. Next possibility is an advertisement by bilboards and advertising trains. But we must be carefull about advertising trains, because advertising can be disturbing on wagons.

Group of modeller, which are associated in S.M.P.D. Society, has a mobile yard (about 300 meters). They can able to provide model operation on different actions for public, also out of Brno. This is a next variant for financial source obtaining.

Financing from public resources or European Union grants is coming into question too. We will pleased for your help.
| | | |
| --- | --- | --- |
| | | |
| | | |
| --- | --- | --- |
| | | |
Steam indoor meeting in Sinsheim (Germany) is the biggest action in the world.
Mobile yards about some kilometers, specialized modeller firms, all steam models operating
(railway models, ships, stationary steam machines, steam cars and steam tractors)
- this is the biggest steam indoor meeting.
Steam meeting is moved to Karlsruhe since 2010.