Number of visitors:


Events:

Our media partner:

Optimized for browser:

Weather at the park railway Olympia: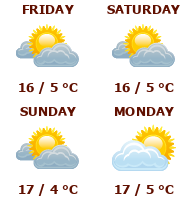 More weather
Park railway Olympia Brno is placed in the green and relax zone of the shopping centre Olympia in the vicinity of the Svratka river. Its building started by earth moving and track surveying in the autumn 2009. The all line and the main station were ceremonially opened in June 2012 after two years of the building and after two seasons of the trial runs.
Park railway was built by ARGO limited liability company in cooperation with shopping centre Olympia Brno. Exclusively private financial resources were invested. This build wasn´t financed from the public resources, state or European Union grants. Park railway operation don´t use any subsidies and it is ensured by members of the S.M.P.D. club. The main investor and plant operator of the biocentre is the shopping centre Olympia Brno. Brno´s architectural company Arch.Design in cooperation with major landscape planner Zdenek Sendler maked conception and project this area. Planted green in this park is a typical for local Lowersvratka hollow. Company Bovis Lend Lease provided supervision of construction and co-ordination of procedures, company Trasko provided ground shaping and ballast laying and company OK Mont provided track laying without main station. These track of the main line produced Ostrava company Ferrmon.
| | |
| --- | --- |
| | |
| | | |
| --- | --- | --- |
| | The build of the main station started in August 2010 when we get a planning permission from the Building Authority in Slapanice. Two skilful Slovak workers Jano Kubian and Stefan Gezo provided these works for the most part. Company Velecky from Krenovice produced all switches and track for the main station. Jarek Grega provided all locksmith's works, tracks and switches welding and laying including a semaphores reconstruction. Company Zekop took excavation works and earth moving. The carpentry of Lubomir Plachy and the tinsmith of Milan Pavelka had all carpentry services on their coscience. Company Elektro Fiala provided all wiring including lightning conductors installation. Company Bofa-mont made a fence near entry to the station, the turntable and stairs at round-house. Final inspection of the main station was on 25th May 2012 incooperation with design office BAUSTUDIO. You can see more detailed anabasis about the origins of Park railway Olympia Brno in the late this section. | |
| | |
| --- | --- |
| | |
Park railway Olympia Brno is intended for a big scale railway models operation. It means, that modeller rides on model and he controls all operations of engine as on real locomotive. Visitors go in adapted models of railway coaches. The park railway is designed as abaxial triple-rails with gauges 127 mm (5") / 184 mm (7") and it is constructed for visiting models operation too. All important dimensions are patterned on international standards NEM 110 (for tracks and switches) and NEM 310 (for axles).
Park railway Olympia Brno is the first model railroad in the Czech Republic of this magnitude. This park railway is one of the best park railway in Europe given its long, conception, technical equipment and setting into green park. Boarding and getting passengers of the train are carried on the main station which is a miniatures of the really station buildings from the turn of the 18th and 19th centuries. The main station building, workshops, engine shed with a turntable and round-house used to a common part of the old railway stations. There buildings are on our station too. You can see a historical semaphores - mechanical distan signal and mechanical two-armed entry semaphore from 1913 and bell signal called "Chinese". You can buy a ticket and souvenir at the ticket office next to the entry to the station. Covered outside seating is ready for passenegers which waiting for train. There is being sold additional refreshments too. Ladies´ and men´s toilets are commonplace. Covered platform with two tracks is given for check-in passengers.
| | |
| --- | --- |
| | |
Come in and savour the atmospehere of our station. Come in and take a ride.
Our park railway behind shopping centre Olympia causes relaxed ride in nature for you.
| | | |
| --- | --- | --- |
| | The main station covered heavy snowfall | |
| | |
| --- | --- |
| (photo © Tomas Randysek) | |
| | | |
| --- | --- | --- |
| (photo © Tomas Randysek) | (photo © Tomas Randysek) | |
| | | |
| --- | --- | --- |
| (photo © Tomas Randysek) | (photo © Tomas Randysek) | |
| | | |
| --- | --- | --- |
| (photo © Tomas Randysek) | (photo © Tomas Randysek) | |
| | |
| --- | --- |
| (photo © Tomas Randysek) | |
| | | |
| --- | --- | --- |
| | The semi-jubilee fifth year of the Steam Olympia fell this year on 4th and 5th June 2016. The record number of the railway modellers and exhibitors of the big machines registered this year. Many novice among exhibitors spoke highly of the atmosphere at our international meeting and promised us their attendance next year. You can see detailed reportage about 5th Steam Olympia in the section Photo gallery/5th Steam Olympia 2016. | |
| | | |
| --- | --- | --- |
| | Evening and night runs 2015 | |
We repeated evening and night runs for the public after last year acceptance.
The weather was very nice on Saturday 5th September and there were a lot of visitors.
The country band Zimour made atmosphere more pleasant at the station during all evening.
| | | |
| --- | --- | --- |
| | The first July weekend at the park railway Olympia is assigned for the international modeller meeting as usual. The big steam engines are the great attractions for visitors. The steam fire engine from Kvitkovice and Swiss steam locomobile of Hansueli Yeti Gassmann were new exhibits this year. The monocycle of the Mr Pavelka was an unique phenomenon. You can see detailed reportage in the section Photo gallery/4th Steam Olympia 2015. | |
The first evening and night runs at the park railway

The first evening and night runs at the park railway for the public came
on Saturday 6th September. The summer weather came back, public interest was considerable
so we try to repeat it next year.
| | | |
| --- | --- | --- |
| | You can talk about the international meeting of the steam locomotive models, steam engines and historical buses in the past tense. Our exacting half-yearly preparations were crown with attendance of some tens of the well-known and quite new participants. But preparation and organizing were more time-consuming then last year. You can see detailed reportage in the section Photo gallery/3rd Steam Olympia 2014. | |
| | | |
| --- | --- | --- |
| | Both of them TU 47 locomotives are operating | |
Preparations for the new season 2014

We started preparations of the station, track and rolling-stock for the new season.
St. Nicholas run 2013

We definitively closed season 2013 by St. Nicholas run for children and adults.
| | | |
| --- | --- | --- |
| | Building of the all railway station was successfully finished | |
We got to complete end of building our railway station in less than three years. I captured the first photos of ongoing building of all park in September 2009. There was a mound of earth on-site our future railway station at that time and buildings Portakabins one month later. Only in July 2010 we took over the cleaned area and we started to building the main station step by step. The our first act, or more precisely act of Jano and Pista, was marked out and enclosured all area by protective plastic film. If I not counting surveying and route survey of the railway line in the park in the autumn 2009.
A building fever started until thereafter - excavation work, hundreds of cubic metres of concrete, modular system Ytong, all insulations, wooden constructions, pavement, tiling, windows and doors Slavona, wastes, wirings, lightning conductors and rails, switches, turntable and mechanical signals last but not least. If I will be candid with you, I sad good riddanceto it all. But we will miss Pista and Jano on the other hand. They were really reliable, thinking and they had sense of fun. We want to thank all our suppliers and sponsors, which participated in building and which is participating in Park Railway Olympia operation. This is a project which is unparalleled near and far. And thousand thanks to shopping centre Olympia, which enabled us to fulfil our long-ago dream. We know who turn for help when we will build a park railway at some time in the future.
| | | |
| --- | --- | --- |
| | You can compare an initial and end situation of the main station on the next photos: | |
| | | |
| --- | --- | --- |
| | Operating season and really hot summer 2013 are in full swing | |
| | | |
| --- | --- | --- |
| | Operating season 2013 is in full swing and the weather is on our side. Rainy weekends were not many - the summer is perfect for our Park railway Olympia operating in short. Sometime is very hot weather, but for us is better hide from the sun then from the rain. Attendance is relatively passable although a lot of people prefer relaxation by the water in these tropical heats. It is understandable because movement in the park reminds rather movement in the parched savannah of the subtropical belt during dry season. Temperatures attack 40 degrees Celsius in these tropical days. | |
| | | |
| --- | --- | --- |
| | Number two year of the international meeting models of steam locomotives, big steam engines and historical buses took place at the weekend 8th and 9th June 2013. An quoted attendance 65.000 visitors, under the Brno, the Town in the middle of the Europe action, completely overcomes last year. Visitors can see 37 models of the steam, battery and motor/engine locomotives. They knew some models from the last year, but some models visited our park railway for the first time. Our visitors can saw function steam engines, they can rode by diesel mining locomotive or historical buses line or took a helicopter ride under the side events. You can see detailed reportage in the section Photo gallery/2nd Steam Olympia 2013. | |
| | | |
| --- | --- | --- |
| | Area of the main station - finishing work of the round-house is continuing. | |
| | | |
| --- | --- | --- |
| | Our workers ran away from the frost into round-house. But they managed to tile entrance stairs on both sides of the round-house fortunately. Most of the outdoor works are done, there are brick linings glue on workshop, level ground behind depot and build a fence there to be done. But we must postpone it for spring. But there is a lot of work, we must finish an inner plasters and floors here. This is a few weeks of work for our workers. | |
| | | |
| --- | --- | --- |
| | The Olympia park main station was opened at the first time for the general public on Saturday 2nd July 2012. None national anthems, none speeches. We raised country´s colours of the all participating countries including our, Moravian. Final preparations were under way from early morning. Shunting in depot, shunting in the main station, heating of the steam locomotives in the round-house. Small sleepy railway station at the local line changed for the big busy main station with real operation. Working trains with water and coal for steam locomotives arranged at entry tracks, shunting of the passenger carriages for commercial trains ran in the main station. Operators beat up and down, tickets, souvenirs and steam beer were preparing in the ticket office. About 40.000 visitors visited 1st Steam Olympiad according to shopping centre Olympia. You can see detailed reportage in the section Photo gallery/1st Steam Olympiad 2012. | |
The first part of the final inspection of the Park Railway Olympia
was successfully finished - the Building Authority Slapanice issued
positive Certificate of Occupancy.
| | | |
| --- | --- | --- |
| | The approval process passed at the main station on 25th May 2012. Workers of the Building Authority Slapanice, depute of the shopping centre Olympia, depute of the design office BAUSTUDIO and deputes of the investor ARGO s.r.o. were attending. General execution of the building and all needed documents, inspections and certificates were found without faults. And so we can start a fully-fledged operation on 2nd June. Thank you very much all participating parties and involved companies which helped us with park railway building. Thank you very much Mrs Marketa Brozova from company Baustudio for her coordination of the final inspection. Now we must make a final inspection of the last part - the round-house. | |
| | | |
| --- | --- | --- |
| | We are on the home straight - building of the round-house started. | |
| | | |
| --- | --- | --- |
| | Mounds of soil are gone from place for round-house and we can start with excavate at last. A volume of excavated earth is about 500 cubic metres. This is the same volume as transported earth. A view on the excavated pit indicate that the round-house with twenty-two radial rails will really imposing building. This round-house will a dominant future of the station surely. We want to concrete foundations and build a rough construction till the winter. We hope that the weather will good, but last rainy days kept us a little. You can see detailed informations about buildings of the main station in the section Park Railway Olympia/Railway execution. | |
| | | |
| --- | --- | --- |
| | | |
| | | |
| --- | --- | --- |
| | "Open day" was organized from two reasons. The first reason was a recent change of the owner of Olympia centre. British investor (company Somerstone), which the whole shopping centre built, ran it more year and guided it on front place between shopping centres, it sold its "baby" to German capital fund. We had more questions with change of the owner, because our project is for several years ahead and financially intensive. Where will directed new owner operation and prospective next development of the centre? And how will look it on our activities, which are out off today popular "shopping activities". I do not want to state the Czechify expression. Did you hear sentence: "Where will go to shopping today?" You will not enjoy this activity in our park railway. You will buy a ticket, definitely! But you will feast one´s eyes on ride the park fifteen minutes. And you will rest from shopping. This is amazing interconnection of shopping centre and relaxation in the park. We hope that new owners will support it. | |
| | |
| --- | --- |
| | |
The second no less important reason was presentation our project for sponsors and cooperate companies. The sponsors have entitlement to see, how is their finance used. Construction companies can to have a look at their work at rest. Because it is not time in the course of working week.
So we met together on this tropical day, on Thursday 25th August 2011. Top management of the Olympia centrum, the mayors of Brno-south and Modrice, representatives of our sponsors, representatives of buildings companies and journalist represented on the part of the visitors. Representatives of company Argo s.r.o. and members of the S.M.P.D. society represented on the part of the organizers. Participants inspected main station and they acquainted with our next planes after celebratory drink. They went by special train from the central station. This train was drawn by our new diesel locotractor Gmeinder. We made a small buffet lunch for participants after special ride in the workshop.
Thank you all participants for their interest in building of our park railway and we believe that we open park railway as soon as possible.
| | | |
| --- | --- | --- |
| | | |
| | | |
| --- | --- | --- |
| | A building of the main station was initiated | |
| | | |
| --- | --- | --- |
| | We lived to experience in the late August 2010. The surveyor's office issued a building licence and we could to start. You find a further particulars in the section Railway execution. | |
| | | |
| --- | --- | --- |
| | The biocentre and sporting recreational area Olympia Brno inauguration | |
The biocentre and sporting recreational area Olympia Brno was inauguration on Saturday, 22th May 2010. We opened first section of the Park Railway Olympia Brno, about 400 meters.
We could see engines of S.M.P.D. Society and host models from Usti nad Orlici, Hradec Kralove and Skalsko too. We prepared festive toast and small buffet. For more detailed information see the section Photo gallery or click on the next picture.



| | | |
| --- | --- | --- |
| | Shopping center Olympia Brno matched up a press conference on Thursday 20th May on the occasion of the biocentre and sporting recreational area open. For more detailed information see the section Park railway execution. | |
| | | |
| --- | --- | --- |
| | We signed an agreement on exercise of a building and operating of the park railway in April 2010. The company Argo s.r.o. is a conventional partner for Olympia. The company Argo is an owner and operator of the park railway. And we could realize our project. But one more thing delayed us - a building licence. Our buildings of the main station subject to regular building control. And we had to wait ... | |
How did all this come about

History of our park railway started at Brno´s fair "For Children" in the spring 2009. Mr Ales Navratil, managing director of shopping centre Olympia asked us, if you would like build a park railway in their new biocentre and sporting recreational area. But there have two conditions - fixed date of opening and warranty of regular commercial operating.
Following days did not easy for us - we solved big dilemma. It was very interesting offer on the one hand. We vainly would sought best place for attractive rental price and place with regular high visit rate. We wanted ourself build park railway, but prices for lots near Brno are very high for us, thanks to lots speculators. And go farther from Brno is not very good with respect to unpleasant commuting and security guard. But Olympia went any further with their offer. Olympia offered us, that they will partially share in track building. It was very attractive proposition.
| | |
| --- | --- |
| | |
We shall have to ensure regular commercial operating on the other hand. And here is risk for us, that we will verbatim "be tied up" into park railway. And our nice hobby can become commonplace us. There is a substantial difference in the riding for joy and in the riding perforce. This problem may solve S.M.P.D. Society and its new members, who are railway´s enthusiasts, but they have not financial resources for purchase relatively expensive models. Perhaps we find boys (but girls too) who would like to drive small steam engines. S.M.P.D. has been registered last year and it offers membership in S.M.P.D. Society.
And we solved one more technical problem. The building-up of biocentre was high when we started our negotiations with Mr Navratil. We would jump into fast ridden train with respect to date of opening.
Every visitor this web pages have to sense our decision. Yes, we have decided to pack it in fully after objective consideration all pro and con. With all risks of contingent penalties for break deadline. We awake to put no small private money for start this project. And we must look for prospective sponsors because of next funding of buildings. We are simply railway madmen.
| | |
| --- | --- |
| | |
| | | |
| --- | --- | --- |
| | We formulated our ideas of park railway during the first weeks of negotiations. Example for us was park railway in Le Bouveret, Switzerland because this project is for several decade years. Our project is able to savour maximalist, but we do not want underestimate nothing. Further interferences into functional biocentre could have been a problem. We had several technical negotiations with Mr Tomas Kopal - development manager. We totally affected his schedule our incursion into started building. But a small railway has his rules and patterns with respect to gradients and curves radii. Mr Kopal had to remove large quantity of mould for maintenance. And original path of in-line skating rink must have been changed, too. Bridging of park railway must have originate in the left side. But Mr Kopal is a professional and he has sense of improvize because he implemented all our requierements gradually. And first curves of track started rising in monitors of Mr Jakub Kapsa and Mrs Iva Dadakova from Arch.Design company. But we did not realize everything (course of line especially), because we inhere in biocentre and we had to respect restrictions of conservationists. Mr Zdenek Sendler was a main negotiator and he tried to find a face-saver. Maybe we designed park railway which will be attractive for active and inactive visitors of our railway. Especially parties behind tunnel around wooden labyrinth, which draughtsmen from Arch.Design company devised. | |
| | |
| --- | --- |
| | |
Concurrently with engineering solution we discussed about conditions of the trade agreement. Company Argo, which own three Brno´s modellers, had become business partner for Olympia. Mr Navratil is really a very good businessman. The business dealings about conditions were exacting but bilateral correct. We are not a default partner for Olympia which has a stall and which sell merchandise, but we think that we passed in this examination. Our activity will not be gainful and all pay-off cover only our cost. We would like to Mr Kopa D.C.L. which stands proxy for us in a legall matters.
The contract was signed and start of the test operation will soon. We had bought 17 tonn of U rolled stock for station track and switches producing before signature of the contract. We entered the producing with the firm Velecky. The selection procedure of producing track for line section won company OK Mont. But this year´s long winter not wished developers. Company Trasko under the direction Mr Fencl started to modulate a trackbed and ballast laying with a first spring days. Company OK Mont under the direction Mr Pavel Bock currently implements track laying. The track section from station Amphitheatre for reset loop will open on a day of the inauguration.

We thank all parties concerned on building of the park railway. If we do the job properly so our park railway will rank among significant park railways in Europe.
| | | |
| --- | --- | --- |
| | Online map of the Shopping and breather centrum Olympia | |